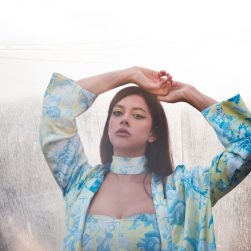 Katerine Duska is a Greek-Canadian singer/songwriter currently based in Athens.
Her acclaimed debut album 'Embodiment' was released in 2016 by Minos EMI, a Universal Music Company and in 2018, her single 'Fire Away' was selected for the official "Nescafe Canada" television ad campaign.
Her musical style channels the dark sonic timbres of Lykke Li, Banks and Jessie Ware and her trademark soulful rasp has earned her comparisons to Amy Winehouse.
Katerine rose to indie star status with her hit song "One in a Million" and her cover of Arctic Monkeys' "Do I wanna know", reaching over 2 million views on Youtube.
She has since then collaborated and shared the stage with LP, Albin Lee Meldau, Tom Baxter, Yasmine Hamdan, Oddisee, Kadebostany and has performed in prestigious venues and festivals across Europe such as The O2 Academy London, Rockwave Festival, Stavros Niarchos Cultural Center Foundation, Megaron Concert Hall and Sofarsound's /Amnesty International's global festival "Give a home" where she was one of the 300+ artists to participate in support of the world's refugees. Katerine Duska will represent Greece in the Eurovision Song Contest 2019 with the song "Better Love".
In 2020, she released her first greek single, with a cinematic video clip, with Leon of Athens, called "ΑΝΕΜΟΣ".
Katerine Duska is represented by Minos EMI, a Universal Music Company.
On social
Digital partners