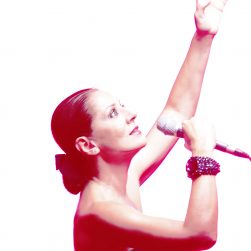 Margarita Zorbala was born in 1957, in Taskendi (former Soviet Union). Her parents were Greek Political Refugees. When she was still only 2 years of age, her family and Margarita moved to Moscow.
Her Father, Stavros, was a Sociologist/Writer of quite important social standing and with quite an extensive number of printed works to his credit. Her mother, Katerina was also with artistic flare – an actress and singer which in parallel taught Greek Philology at the Lomonosof University in Moscow. Margarita, along with her brother Demetris enjoyed a happy childhood in Russia where their parents ensured that the Greek language and Greek History remained an integral part of their upbringing. As a teenager, Margarita already knew and sung the songs of Mikis Theodorakis and Manos Hadjidakis which, together with the other Greek children, would sing regularly at the Greek Club of Moscow.
She was just 9 when she first met Mikis Theodorakis, a family friend who went to Moscow to visit the family. This meeting proved to be the beginning of her destiny as a singer as at 17 years old, Margarita Zorbala went to Greece after having been invited by Theodorakis to perform on one of his most important works – "Ballads" to the poetry of Manolis Anagnostakis. After the recording of the album which was predicted to be a great success, she returned to Moscow to finish her studies in Spanis Philology which she had already commenced at the University of Lomonosof. On completing her studies she returned to Greece with her family permanently.
In the years that followed, she recorded another 5 albums with Theodorakis and for 2 years she accompanied him in all the concerts performed in and outside of Greece (Europe, America, Canada).
On social
Digital partners