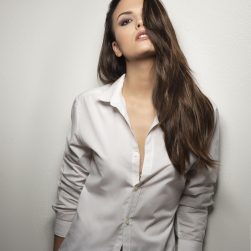 Η Κατερίνα Λιόλιου είναι Ελληνίδα τραγουδίστρια με καταγωγή από τη Θεσσαλονίκη.
Ξεκίνησε να ασχολείται από μικρή με τη μουσική, σε ηλικία 17 ετών εμφανίστηκε στο School Wave Festival ενώ το 2014 συμμετείχε στον 1ο κύκλο του The Voice of Greece φτάνοντας μέχρι τον ημιτελικό.
Έχει κυκλοφορήσει 9 προσωπικά singles και 6 βίντεο κλιπ, ενώ έχει συνεργαστεί με μεγάλα ονόματα της ελληνικής δισκογραφίας όπως ο Αντώνης Ρέμος, η Δέσποινα Βανδή, ο Σάκης Ρουβάς, ο Στέλιος Ρόκκος, ο Χρήστος Δάντης, o Νίκος Βέρτης και ο Γιώργος Σαμπάνης.
On social
Digital partners